historicalfashion
A blog posting historical fashion garments, portraits, or drawings from the Middle Ages to the 1950s, and some special exceptions for later dates. This includes photographs, explanation of the garment, and historical details. Long live the past!
You can follow my personal tumblr
here
.
Find your favorite eras by navigating the tags
here
!
Ask me anything
and tell me what you'd like to see!
Evening dress, 1912-1914.
Two costume patterns for sale!
I bought these a while ago, and soon afterward started drafting my own patterns rather than using the commercial ones, so I never even opened them. Both are complete and uncut. I'm going to sell them each for eight dollars, or both for twelve. Shipping will be determined based on where you are in the world :)
Simplicity 3723
Simplicity 3812
Email me at faye.von.bacharach@gmail.com if you are interested! Payment through Paypal.
I will start with the year the Civil War ended, 1865.

This fashion plate appeared in Godey's Lady's Book. Of course, don't imagine the dresses beautifully drawn here were worn by the large majority of American women. Most families were still affected by the war. I suppose there were some, perhaps Yankee women, who afforded to follow the (usually Parisian) trends. So look at fashion plates as you look at today's Vogue.
Godey's fashions for January 1866.

I love love love the first dress on the right! If it were an extant example it would totally get a thousand notes.
I adore the purple dress to the left, oh my god.
Afternoon dress, 1865.
Once more, stripes on the lady in the center.

Fashion plate from Peterson's magazine, 1867.
gorgeous!
Portrait de Caroline Murat devant la baie de Naples par François Pascal Simon Gérard, baron (1770-1837)
Just thought I should keep you all updated on my most recent project! I finished my new Regency bonnet on July 4th (Happy birthday, America!) :D It doesn't have the silk ribbon on it yet, which is a lovely deep periwinkle shade and will be a bow, or the silk bluebonnet flowers, but I'll post a second photo once those are on.
I copied the pleated silk crown (wow, everything seems to be silk hahaha) from the drawing in the top left of the photo below. I'm also debating searching out vintage lace for a veil like the one pictured! What do you think?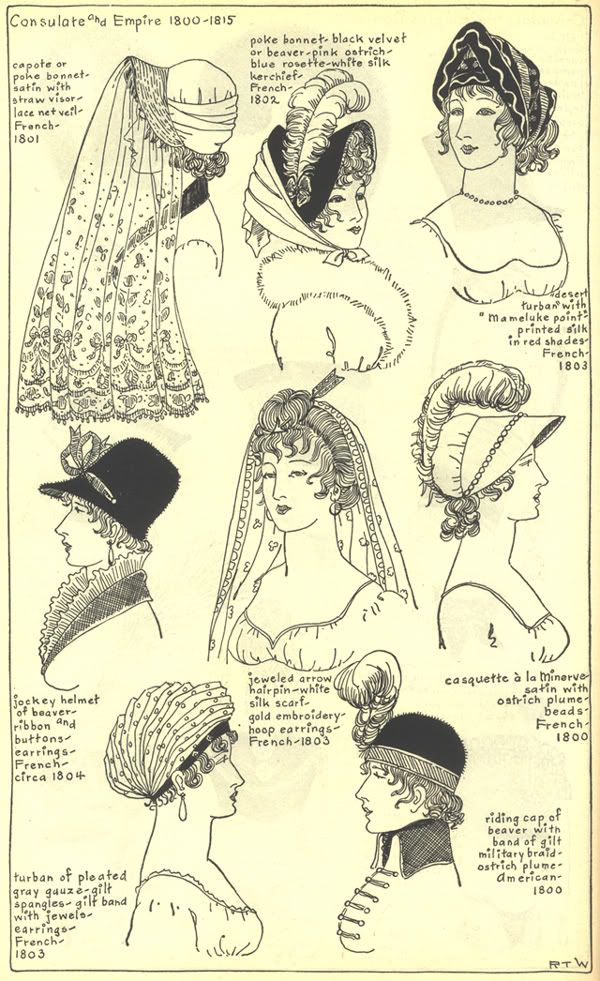 Would anyone be interested in commissioning sewing projects from me?
I'm really considering starting to sew for other people since I'm in a tight spot and I need money in order to fly to see my boyfriend once he leaves for college in New York City. Would you want something made for you? I wouldn't charge as much as other sewing sites do because I know people are going through tough times right now. I've never sewn for other people, (OH WAIT THAT'S NOT TRUE. I remembered I sewed a dress each for my friends in eight grade. Whoops!) but I have been a seamstress for myself for four years, so I definitely have experience under my belt.  We'd have to discuss the item wanted and what patterns and fabrics will be used, of course - it would be very personal and tailored to each customer. If you're interested, answer/reply with your email or your AIM address, or shoot me a line in my ask box, and we'll talk!
Dated June 27, 1901

A vintage photo of a gathering at the queen's village at Versailles.
THIS IS BEAUTIFUL
← 153/233 →