historicalfashion
A blog posting historical fashion garments, portraits, or drawings from the Middle Ages to the 1950s, and some special exceptions for later dates. This includes photographs, explanation of the garment, and historical details. Long live the past!
You can follow my personal tumblr
here
.
Find your favorite eras by navigating the tags
here
!
Ask me anything
and tell me what you'd like to see!
Mourning Bonnet (American), MFA Boston, 1840-45
Straw Hat, MFA Boston, 1820s
Straw and Silk Bonnet, MFA Boston, 1815
Child's Day Bonnet, Met Museum, ca. 1815
Straw Bonnet, MFA Boston, early 1800s
Corded Silk Bonnet, MFA Boston, early 1800s
A fur bonnet from circa 1870.
Purple bonnet, 1880
Just thought I should keep you all updated on my most recent project! I finished my new Regency bonnet on July 4th (Happy birthday, America!) :D It doesn't have the silk ribbon on it yet, which is a lovely deep periwinkle shade and will be a bow, or the silk bluebonnet flowers, but I'll post a second photo once those are on.
I copied the pleated silk crown (wow, everything seems to be silk hahaha) from the drawing in the top left of the photo below. I'm also debating searching out vintage lace for a veil like the one pictured! What do you think?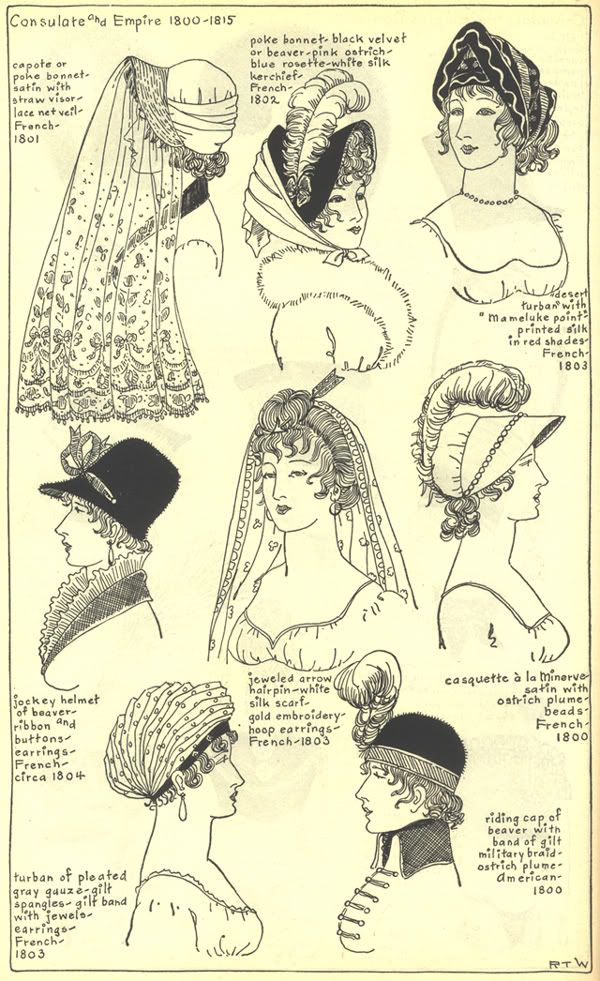 Silk bonnet at Manchester City Galleries, 1805-1808
Yellow silk. Unlined. Pleated all round edge. Stiffened muslin band on inside edge fitting head. Brim enclosing face, of horizontally pleated silk over stiff foundation, rounded at bottom corners, narrow at top, edge bound in ribbon. Join of brim and crown is covered with folded ribbon. Trimmed with silk rosette at top. Long ribbon strings pinned on.
← 2/3 →